Gotheburg 25-9-2019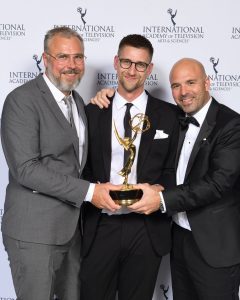 I woke up to a textmessage 4.55 AM from Manhattan, New York. It was Ola Christoffersson. Photographer and Editor at SVT.s "Uppdrag granskning". They had just received an Emmy Award for the documentary about the murder on the Swedish UN-worker Zaida Catalan 2017 in Kongo.
I wrote the Originalscore!
The Emmy Award is one of the finest prices there is!
And its also the first time in history that a Swedish Uppdrag Granskning grabs an Emmy!
Unfortunately i couldnt make it to New York because im stuck with a featurefilm here in Gothenburg. But i have been working with SVT and Uppdrag Granskning for some 12 years now, and its an honor to keep contributing to this highly important program by designing the tone of it.
Im so proud of being a part of this Emmy.
Congratulations. Well done!
Ola Christoffersson, Axel-Gordh Humlesjö and Ali Fegan.