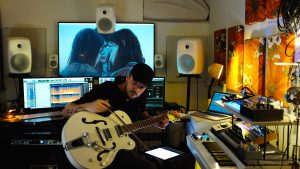 per-henrik@per-henrik.com
Phone:+46704184452
Sockerbruket 17, 1 tr
41451, Gothenburg, SWEDEN
Per-Henriks featured work on Swedish Film Database
With a past as soloist in alternative rock and electronic music, Per-Henrik today works as a composer and sound designer with film/commercial and performing arts. Born in the magic year 1973 with a age of 44, Per-Henrik has so far composed music and sound designed about 60 films all shown at the Swedish Television (SVT) and festivals around the world. Drama/fiktion, documentary, animation and trailers. Some of them have been nomineed and some won prices like Kristallen, The Pulitzerprice, Guldbaggen, IDA Awards, Emmy, Prixeuropa etc. And several scores for choreographers like Efva Lilja and Fabio Liberti. In parallel with creating the music, he often also works with sound design/foley/mixing to make music and sound contribute to a strong overall experience. The work is done in his own studio in Gothenburg, Sweden with Protool's HD and the latest post-production technology. Directors often mention the privilege and advantage to have only one person doing both composing music and postproduction/delivery. Execpt the highest quality having fun is very important!
Please contact for full CV.
Per-Henrik Mäenpää from Per-Henrik Maenpaa on Vimeo.