Fiktion 20min – 2021
Regi – Daniel Mattiasson
Skådespelare – Miriam Bryant/Kardo Razazzi
Ljuddesign/Mix – Per-Henrik Mäenpää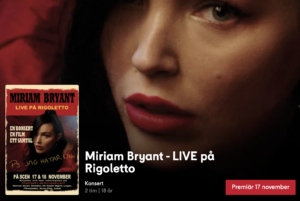 Under två kvällar i november förvandlas Filmstadens galabiograf Rigoletto i Stockholm till en konsertscen. Miriam Bryant ger fyra exklusiva livespelningar där hon för första gången spelar musiken från sitt nya album "PS. Jag hatar dig". Men PS. Jag hatar dig är inte bara ett album, utan även en 20 minuter lång spelfilm, regisserad av Daniel Mattiasson, där Miriam själv spelar huvudrollen tillsammans med Kardo Razzazi. Filmen är ett känslosamt porträtt av albummusiken och visas innan konserten. Därefter följer ett samtal mellan Daniel Hallberg och Miriam Bryant på scenen innan spelningen startar.
Missa inte en unik chans att se mer av Miriam Bryant både som liveartist, låtskrivare och nu även som skådespelare.
"PS. Jag hatar dig" – en konsert, en film och ett samtal – live på biograf Rigoletto den 17 och 18 november.
For two evenings in November, Filmstaden's Cinema Rigoletto in Stockholm is transformed into a concert stage. Miriam Bryant gives four exclusive live gigs where she for the first time plays the music from her new album "PS. I hate you". But PS. I Hate You is not only an album, but also a 20-minute feature film, directed by Daniel Mattiasson, in which Miriam herself plays the lead role together with Kardo Razzazi. The film is an emotional portrait of the album music and is shown before the concert. This is followed by a conversation between Daniel Hallberg and Miriam Bryant on stage before the show starts.

"PS. I hate you" - a concert, a movie and a conversation - live at the Rigoletto cinema on November 17.