Gothenburg, 18-2-2020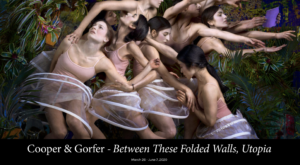 A few months ago i was contacted by the American/Austrian Artistduo Cooper & Gorfer to create Sound Design and compose music to a 9 min Installationfilm that will premiere at their exhibition at FOTOGRAFISKA in Manhattan/New York, 26-3-2020.
I am also Composing and Sound designing a 15 min Documentary about the project.
Shot and edited by DOP Camilla Topuntoli.
BETWEEN THESE FOLDED WALLS – FOTOGRAFISKA, MANHATTAN, NEW YORK, 26-03-2020.
Be there – or be square.
Cooper & Gorfer comprises the artists Sarah Cooper (US, 1974) and Nina Gorfer (Austria, 1979). Their work focuses on the female aspects of cultural identity. Based on the stories and lives of the women they meet and collaborated with, Cooper & Gorfer explore issues of memory, migration, dislocation, and the malleability of identity.
The artist duo are known for their distinct hybrid portraits. Their photo-based collages are anchored in an anthropological research of people, place and the genius loci. They reimagine the tradition of portraiture by visually examining and deconstructing the narrative of those they portray. Like art history's Mannerists and Surrealists or literature's Magical Realism, Cooper & Gorfer strain observable reality through a complex psychological filter of memories, moods and wounds.
Cooper & Gorfer began their collaboration in 2006. They live and work in Gothenburg.
Cooper & Gorfer have had several solo exhibitions, among others, at Fotografiska Stockholm, Hasselblad Center Gothenburg, Kulturhuset Stockholm, Museum Angewandte Kunst Frankfurt and the National Museum of Photography Copenhagen. Cooper & Gorfer's work is included in several private and museum collections, including the National Gallery of Iceland. They have been awarded the German Photo Book Award 2018, and are Hasselblad Ambassadors.